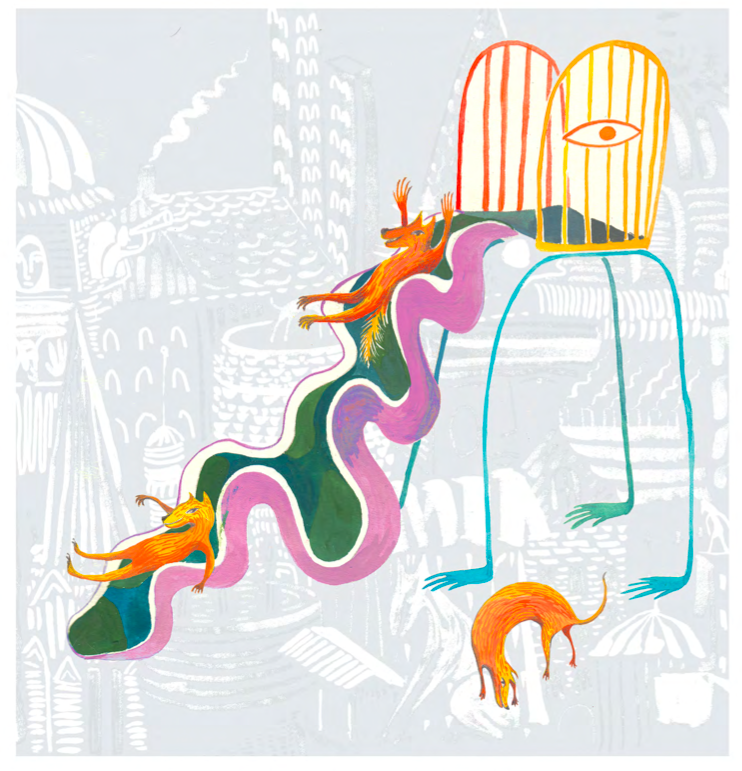 Waymarking and wall graphics
Three artists have been working to develop wall based graphic artworks to support the wayfinding strategy developed by the project architects HLM.  Layers of the landscape have been used to create subtle colour themes and waymarking rationale to assist in helping patients and visitors move through the building.
Building floors are denoted as landscape strata with urban as the lowest level and moving up through rural, lochs, mountains and finally sky. Each level and its associated geographical reference have dedicated colours which can be seen within the architecture and landscape design work so tying different elements and the whole building together.
Some of the artists commissioned to create images for the walls and surfaces throughout the building have made work ranging from images featuring Edinburgh's notable skylines and landmarks to some of the city's most recognisable surrounding rural areas using bold colours, detailed illustrations and abstract designs.
David Galletly has created monotone and coloured line drawings with a cartoon-like style. His varied subject matter includes buildings, cityscapes, trees and humorous characters. Drawing on the geographical themes, David uses the floor's designated colour as spot colour through his illustrations. Below is a selection of David's illustrations for the ground floor urban theme with its yellow accent colour and the first floor rural theme with its green accent colour.
Natasha Russell creates designs using printmaking, painting and drawing methods and her work is focused on landscape- based subject matter with narrative details. Like David's illustrations, Natasha's work will feature in wards and departments throughout the building.
Rachel Duckhouse has created geometric works with bold colours, lines, forms and textures using hand printed and printmaking methods. Rachel's designs will be featured in public corridors, a linked series of graphics highlighting different entrances, seen here in a drawings in context of corridors and windows in the new building.