The Sanctuary Stained Glass window for the Sciennes Road Royal Hospital for Sick Children
Emma Butler-Cole Aiken was commissioned to lead the design of the reinterpretation of the stained glass window project after designing and making the Sanctuary Stained Glass window for the Sciennes Road Royal Hospital for Sick Children in 1997. We asked Emma to share the story behind the design of the old stained glass window:   
 I was asked to design and make a new window for (at that time) the new chapel space in the hospital. The brief was to make something that would appeal to people of all faiths or none, and not to include anything that was specific to any faith group. 
I had actually spent many hours in that very space in the early 90's, when it was a seating area for waiting parents and visitors to the hospital with snack machines and so on. My daughter was being treated for kidney failure following an e-coli infection and it was a worrying time for our family. When creating the original window I tried to remember how I felt at that time, and what I would have liked to look at. That's when I came up with the idea of a beautiful tree tunnel with light at the end as a symbol of hope. 
I remembered a specific place we used to walk in the West Highlands that looked like that, and based the design on a photograph of it taken in the 80's. Even by the time I was making the window, the actual view there had changed due to the invasive rhododendron being cut back. The path is no longer in a tunnel but has open views out to a sea loch. The aim of the window, though, was to say that even if we can't see the view, or perhaps cannot see any way through at all, there is always hope, there is light at the end of the tunnel.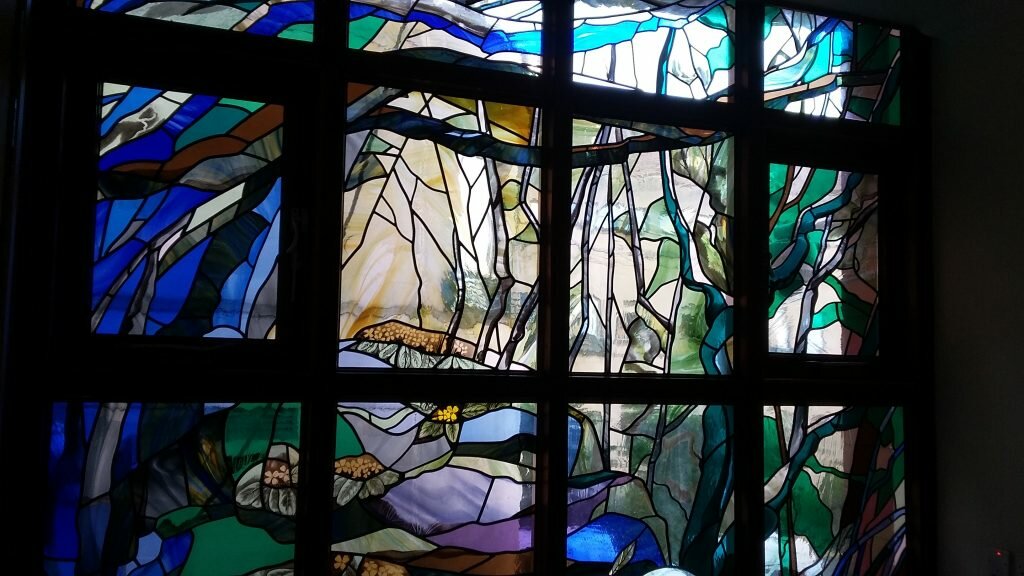 The new window is also heavily influenced by nature –  the design is based on one of the tree forms towards the right-hand side of the old window. The theme is the cycle of life: cell division and new life; hopeful green shoots; healthy leaves of memory; mature, permanent branches; loss and decay. During her research, Emma was struck by how much the old window was appreciated and how important it has been to individuals over the years. Using a similar colour palette and traditional stained glass techniques would anchor the memory of the old window in the new.