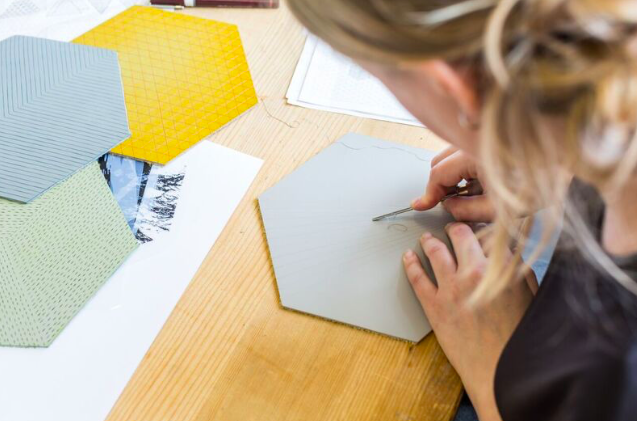 Wall Graphics
A series of wall graphics that were designed by artists working with patients and staff of NHS Lothian, led by Alison Unsworth, will be installed in our 200 locations in the new hospital building.  
The designs build on the overall concept developed by HLM architects for the interior design of the building, based on five 'layers of the landscape'; starting with an urban theme for the ground floor, moving through themes of rural, water, mountain and sky as one travels up through the building.
Alison Unsworth has created designs for wall graphics within waiting areas and treatment rooms. These will provide distraction for patients and their families whilst they wait to be seen. Each puzzle provides multiple ways for staff to engage children in conversation whilst they are receiving treatment. Alison has created drawings of familiar items that you might find in your everyday environment, including bus tickets, drinking straws, paper bags, lolly sticks and revision cards. She has combined the drawings with familiar puzzle formats to create a range of unique picture puzzles. She has also created a series of 'repeat pattern' puzzles with drawings of coloured and patterned drinking straws. Patients are invited to work out which straws are missing from the gaps within each pattern.
Rachel Duckhouse has created designs which run along the main hospital corridors on each floor of the building and assist wayfinding by highlighting key entrances to wards and departments. She has created a visual identity for each floor by combining a repeated shape in a carefully developed range of colours, patterns and textures. Rachel combines drawing and printmaking to produce her work. These designs use the techniques of lino cutting, screen printing and block printing. Each shape has been hand printed by the artist at Glasgow Print Studio. Hand production is evident throughout Rachel's designs and imperfect edges are celebrated. Slight misalignment of individual shapes within a repeat pattern results in subtle variation of colour and texture created by overlapping areas.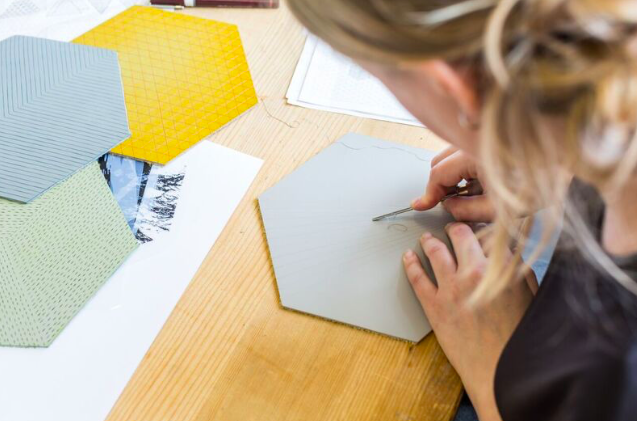 Artist and illustrator David Galletly has created designs for corridor walls, reception desks and staff desks within wards and departments. His work combines traditional pen and paper drawing with digital drawing, arrangement and layout. Black line drawings have incorporated one spot colour which corresponds with the landscape theme for each floor. Cityscapes of Edinburgh on the ground floor are populated by friendly giants and playful characters blowing giant bubbles. Details are revealed to the viewer as they spend time looking, with hidden elements to spot and find. 
On the 'rural' first floor David's designs show a landscape of leaves, trees and hills populated by animal and human characters with binoculars and telescopes. Elements of the cityscape from the ground floor below occasionally appear through the rural landscape. On the fourth floor rockets and paper aeroplanes leave trails of swirling lines through the sky.
Natasha Russell has created a series of illustrative artworks combining landscapes, characters and narratives, reminiscent of storybook illustrations. She uses painting and printmaking to create images by hand. On the ground floor Natasha's designs reflect Edinburgh through patterns created from tenement buildings and characters swinging from the National Monument on Calton Hill.
On the second floor Natasha has created a series of designs inspired by the theme of water, focussing on the Firth of Forth. A striking blue and white image of gannets on Bass Rock will be displayed on a corridor wall, whilst a series of eight designs will be displayed on reception and staff desks across the second floor. Each of the desks depicts a different aspect of The Firth of Forth including Cramond Island, the Isle of May, bridges, diving, swimming and microfauna.